Established in 1996, the Molecular Genomics Core (MGC) is a state-of-the-art facility offering a variety of experimental platforms to facilitate (epi)genomics and proteomics research. Accredited as a Duke Core facility in 2007, the MGC offers decades of experience with genetic, genomic, epigenomic and proteomic study design and technology, and works closely with researchers to customize experiments to meet their needs. The MGC highlights applications that include 10x Genomics single-cell library (Chromium) for both gene expression and ATAC sequencing and spatial gene expression (Visium) platforms, DNA methylation microarrays, SNP genotyping and copy number microarrays, and Taqman targeted SNP genotyping. We have also recently implemented the Quanterix Simoa® bead-based immunoassay technology which is capable of detecting proteins at femtogram levels in serum and plasma.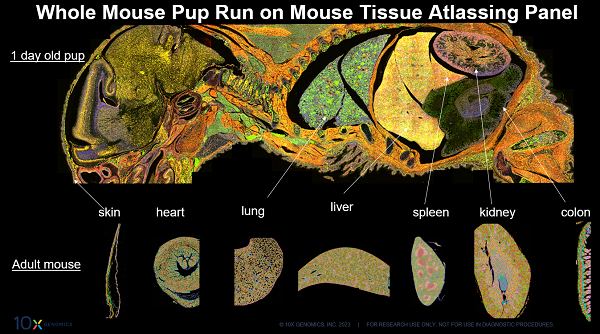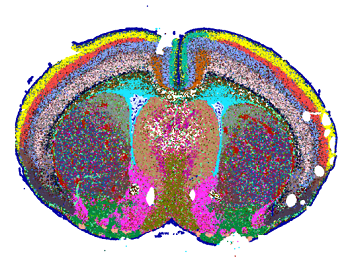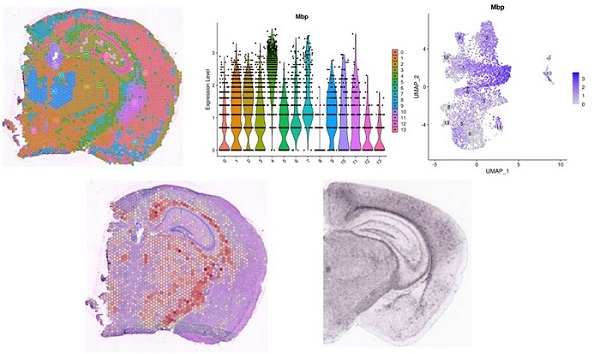 Be sure to download your raw scRNAseq data from the GCB for publishing. The MGC does not guarantee retention of raw sequencing data after 3 months from delivering data analysis.
The Gregory lab is on Twitter! Follow us at @TheGregoryLab for MGC updates.
Persistent post-COVID-19 smell loss is associated with inflammatory infiltration and altered olfactory epithelial gene expression                                                                                          Finlay JB, Brann DH, Abi-Hachem R, Jang DW, Oliva AD, Ko T, Gupta R, Wellford SA, Moseman EA, Jang SS, Yan CH, Matusnami H, Tsukahara T, Datta SR, Goldstein BJ.bioRxiv. 2022 Apr 18:2022.04.17.488474. doi: 10.1101/2022.04.17.488474. Preprint. PMID: 35478953
Hypertrophic chondrocytes serve as a reservoir for marrow associated skeletal stem and progenitor cells, osteoblasts, and adipocytes during skeletal development
Jason T Long, Abigail Leinroth, Yihan Liao, Yinshi Ren, Anthony J Mirando, Tuyet Nguyen, Wendi Guo, Deepika Sharma, Douglas Rouse, Colleen Wu, Kathryn Song Eng Cheah, Courtney M Karner, Matthew J Hilton.
Elife 2022 Feb 18;11:e76932. doi: 10.7554/eLife.76932.
Single-Cell RNA Sequencing Reveals Cellular and Transcriptional Changes Associated With M1 Macrophage Polarization in Hidradenitis Suppurativa
Mariottoni P, Jiang SW, Prestwood CA, Jain V, Suwanpradid J, Whitley MJ, Coates M, Brown DA, Erdmann D, Corcoran DL, Gregory SG, Jaleel T, Zhang JY, Harris-Tryon TA, MacLeod AS.
Front Med (Lausanne). 2021 Aug 24;8:665873. doi: 10.3389/fmed.2021.665873
A non-canonical type 2 immune response coordinates tuberculous granuloma formation and epithelialization.
Mark R. Cronan, Erika J. Hughes, W. Jared Brewer, Gopinath Viswanathan, Emily G. Hunt, Bindu Singh, Smriti Mehra, Stefan H. Oehlers, Simon G. Gregory, Deepak Kaushal, David M. Tobin
Cell (2021), https://doi.org/10.1016/j.cell.2021.02.046
Single-cell RNA-seq reveals transcriptomic heterogeneity mediated by host-pathogen dynamics in lymphoblastoid cell lines.
Elliott D SoRelle, Joanne Dai, Emmanuela N Bonglack, Emma M Heckenberg, Jeffrey Y Zhou, Stephanie N Giamberardino, Jeffrey A Bailey, Simon G Gregory, Cliburn Chan
eLife 2021;10:e62586 DOI: 10.7554/eLife.62586.
Single-cell omics analysis reveals functional diversification of hepatocytes during liver regeneration
Tianyi Chen, Sehhoon Oh, Simon Gregory, Xiling Shen, Anna Mae Diehl
JCI Insight. 2020 Nov 19;5(22):e141024. doi: 10.1172/jci.insight.141024.
Meteorin-like facilitates skeletal muscle repair through a Stat3/IGF-1 mechanism
Baht GS, Bareja A, Lee DE, Rao RR, Huang R, Huebner JL, Bartlett DB, Hart CR, Gibson JR, Lanza IR, Kraus VB, Gregory SG, Spiegelman BM, White JP.
Nat Metab. 2020 Aug;2(8):794. doi: 10.1038/s42255-020-0257-y.PMID: 32694832
Synovial Cell Cross-Talk With Cartilage Plays a Major Role in the Pathogenesis of Osteoarthritis
Ching-Heng Chou, Vaibhav Jain, Jason Gibson, David E Attarian, Collin A Haraden, Christopher B Yohn, Remi-Martin Laberge, Simon Gregory, Virginia B Kraus
Sci Rep 2020 Jul 2;10(1):10868. doi: 10.1038/s41598-020-67730-y
Erythromyeloid progenitors give rise to a population of osteoclasts that contribute to bone homeostasis and repair
Yasuhito Yahara, Tomasa Barrientos, Yuning J. Tang, Vijitha Puviindran, Puviindran Nadesan, Hongyuan Zhang, Jason R. Gibson, Simon G. Gregory, Yarui Diao, Yu Xiang, Yawar J. Qadri, Tomokazu Souma, Mari L. Shinohara & Benjamin A. Alman
Nat Cell Biol (2020) doi:10.1038/s41556-019-0437-8
This paper is highlighted on the cover of Molecular Cancer Research.
CRISPR Editing of Mutant IDH1 R132H Induces a CpG Methylation-Low State in Patient-Derived Glioma Models of G-CIMP
Moure CJ, Diplas BH, Chen LH, Yang R, Pirozzi CJ, Wang Z, Spasojevic I, Waitkus MS, He Y, Yan H.
Mol Cancer Res. 2019 Oct;17(10):2042-2050. doi: 10.1158/1541-7786.MCR-19-0309. Epub 2019 Jul 10.
Single cell RNA sequencing identifies YAP1-dependent hepatic mesothelial progenitors in fibrolamellar carcinoma.
Jewell ML, Gibson JR, Guy CD, Hyun J, Du K, Oh SH, Premont RT, Hsu DS, Ribar T, Gregory SG, Diehl AM.
Am J Pathol. 2019 Oct 24. pii: S0002-9440(19)30770-9. doi: 10.1016/j.ajpath.2019.09.018. [Epub ahead of print] PMID: 31669305
Microglial Function Is Distinct in Different Anatomical Locations during Retinal Homeostasis and Degeneration
Emily G. O'Koren, Chen Yu, Mikael Klingeborn, Alicia Y.W. Wong,  Cameron L. Prigge, Rose Mathew, Joan Kalnitsky, Rasha A. Msallam, Aymeric Silvin, Jeremy N. Kay, Catherine Bowes Rickman, Vadim Y. Arshavsky, Florent Ginhoux, Miriam Merad, Daniel R. Saban
Immunity. Volume 50, Issue 3, 19 March 2019, Pages 723-737.e7
Non-lytic clearance of influenza B virus from infected cells preserves epithelial barrier function
Rebekah E. Dumm, Jessica K. Fiege, Barbara M. Waring, Chay T. Kuo, Ryan A. Langlois & Nicholas S. Heaton
Nature Communications. Volume 10, Article number: 779 (2019).
Skewing of the population balance of lymphoid and myeloid cells by secreted and intracellular osteopontin
Kanayama M, Xu S, Danzaki K, Gibson JR, Inoue M, Gregory SG2 Shinohara ML.
Nat Immunol. 2017 Sep;18(9):973-984.
A Missense Variant in PTPN22 is a Risk Factor for Drug-induced Liver Injury.
Cirulli ET, Nicoletti P, Abramson K, Andrade RJ, Bjornsson ES, Chalasani N, Fontana RJ, Hallberg P, Li YJ, Lucena MI, Long N, Molokhia M, Nelson MR, Odin JA, Pirmohamed M, Rafnar T, Serrano J, Stefansson K, Stolz A, Daly AK, Aithal GP, Watkins PB; Drug-Induced Liver Injury Network (DILIN) investigators and International DILI consortium (iDILIC)
Gastroenterology. 2019 May;156(6):1707-1716.e2. doi: 10.1053/j.gastro.2019.01.034. Epub 2019 Jan 18.